Amazon Expedition Travel

User Functions
Don't have an account yet? Sign up as a New User

Help support this site!
Help support this site... your donations are needed to support research, conservation, and rescue efforts.


Major decline in wild bird populations - conservation group says

Monday, January 01 2007 @ 11:26 PM UTC
Contributed by: MikeSchindlinger
Views: 5462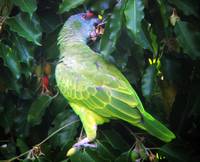 Sunday, December 31st 2006

A local bird watching group says there is a "major decline" in wild bird populations.

According to the Guyana Amazon Tropical Birds Society (GATBS), the inability of local exporters to fill their quotas for some species highlights a big drop in the numbers of wild birds and is cause for great concern. In a statement the group says local exporters are finding it difficult to acquire some of the most demanded species on the market. Currently, parrots and macaws, which are favoured as pets abroad, are highly sought-after for trade. The Blue-and-Yellow Macaw, the Festive Parrot, the Blue Cheeked Parrot, the Caica Parrot and the Orange-winged Parrot have been identified as some of the species that have suffered a decrease in numbers. Some traders are reporting that they have not been able to acquire as little as 60 birds of one species over the past year. "This emphasises the detriment to the wild populations when extensive harvesting is being carried out without constant monitoring," the GATBS says. "Such a vast decline in the wild bird population poses a serious threat not only to the future of the bird trade but also the tourism industry which is promoting birding as a major activity."
read more
(197 words)

Post a comment
Officials to free Puerto Rican parrots

Friday, November 10 2006 @ 06:21 AM UTC
Contributed by: MikeSchindlinger
Views: 6212
The Associated Press
SAN JUAN, Puerto Rico ó Twenty-one Puerto Rican parrots raised in captivity will be released - a first attempt to create a new population of the threatened species by reintroducing it into an area where it previously existed, U.S. wildlife officials said Wednesday.

The parrots - which are bright green with a red forehead and wings that flash turquoise in flight - will be let go at the Rio Abajo aviary in Utuado on Sunday, the U.S. Fish and Wildlife Service said in a statement.
read more
(131 words)

Post a comment
Game farm's animals sold to advocates

Wednesday, October 25 2006 @ 12:01 AM UTC
Contributed by: MikeSchindlinger
Views: 7205
Birds, rhino, boar attract bidders

By Erikah Haavie, Poughkeepsie Journal
Friday, October 20, 2006

CATSKILL, NEW YORK Marc Johnson came to the Catskill Game Farm hoping to film footage for a documentary on the problems of the
exotic bird trade.

Instead, he left Wednesday with four vervet monkeys, a Patagonian cavie, a yellow-backed lorry and two African porcupines.

He wasn't planning on the porcupines, but after hearing a taxidermist might be interested in stuffing them, he bought them, too.

Johnson, a resident of Rockland, Mass., was among the animal rights advocates who purchased animals during an auction at the Catskill Game Farm this week.
read more
(401 words)

Post a comment
UK: Birds win!

Friday, October 13 2006 @ 09:54 PM UTC
Contributed by: MikeSchindlinger
Views: 8615

October 11, 2006 : 10:20 PM
There will be no more itinerant bird fairs in the UK!

The new Animal Welfare Bill is just about to pass in the UK Parliament, and it will put an end to the nefarious pet fairs, dotted across the UK, in which traders in wild-caught parrots sold birds cheaply to people who often bought them on a whim and had no idea how to care for them.

Many thousands of these beautiful and intelligent tropical birds never even survived the journey from their native country. They died sometime between the terrifying moment of being captured in the forest and the long, crowded, stressful ordeal of traveling hundreds of miles. Those who did survive often found themselves crammed into a traveling van, trekking around the UK from one pet fair to another until they either died or were sold.

Congratulations to Greg Glendell, Director of ParrotsFirst, to Elaine Toland, Director of the Animal Protection Agency, and to the others who have been part of this courageous and determined fight to protect wild parrots from this cruel exploitation! This was a hard-fought struggle waged over a number of years.


read more
(394 words)
1 comments

Feathers Fly! Bird Watchers Say Parrots Are Being Pinched

Tuesday, September 19 2006 @ 06:50 AM UTC
Contributed by: MikeSchindlinger
Views: 6398
By Joe Maniscalco - 09/14/2006


Theyíve become as ubiquitous in many parts of Brooklyn as their much less colorful cousin the pigeon. But friends of the South American Monk Parrots, introduced to Brooklyn more than 30 years ago when a shipment of birds supposedly went awry at JFK Airport, fear that the parrots are now being poached right out of their well-constructed nests located high atop telephone poles all around Midwood and Marine Park.

Robert Nadel, present of the Fraser Civic Association, said he began to suspect something was amiss about two months ago when he noticed the telltale squawking normally heard during his morning runs around Avenue I and Quentin Road had become conspicuously absent.

read more
(711 words)
1 comments

Parrots call baby chicks by name: experts

Sunday, August 20 2006 @ 12:59 AM UTC
Contributed by: MikeSchindlinger
Views: 7855
By IANS - Tuesday August 1, 09:23 AM


Hamburg, Aug 1 (DPA) In a discovery that is likely to rekindle the debate about language in the animal kingdom, researchers in Germany have found that some parrots appear to give their offspring individual names.

Animal behavioural scientists at the University of Hamburg say that parrots use a distinctive call for each of their chicks, with no two chicks being given the same 'name' call.

The small South American parrots also apparently have name calls for their mates.

'The birds very definitely use a particular call exclusively with a particular bird and never for any other bird,' says Rolf Wanker, head of the Hamburg University Zoological Institute's behavioural research laboratory.
read more
(485 words)

Post a comment


Who's Online
Guest Users: 6


Foster Parrots - Adoption and Conservation

Vote

How many years have you lived with a parrot?




Vote

Where does your parrot's species live? (Cast an additional vote for each bird you live with)




Adopt a Parrot