Amazon Expedition Travel

User Functions
Don't have an account yet? Sign up as a New User

Help support this site!
Help support this site... your donations are needed to support research, conservation, and rescue efforts.


16 Seram (Moluccan) Cockatoos and 4 Purple-Naped Lories Released Back to the Wild

Thursday, April 17 2008 @ 07:54 PM UTC
Contributed by: MikeSchindlinger
Views: 6774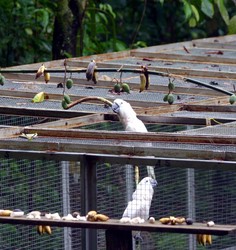 April 9, 2008 -- The illegal wild bird trade remains rampant in Indonesia, and includes a number of parrot species; populations of some of these are considered vulnerable to future extinction.

Enforcement of laws protecting parrots is critical, and such interdiction has recently been stepped up in Central Maluku by officers ofBKSDA (Conservation and Natural Resources) and the Department of Forestry.However, the problem then remains as to the disposition of birds captured by government authorities.

Some of these birds cannot be returned to the wild for various reasons, but a select sub-population can be released if they meet criteria set forth by IUCN (the World Conservation Union) and CITES (Convention on the Trade in Endangered Species). The Indonesian Parrot Project has now carried out three such parrot releases.
read more
(604 words)

Post a comment
Bumper harvests get endangered parrots laying

Monday, April 07 2008 @ 09:43 AM UTC
Contributed by: MikeSchindlinger
Views: 6586
03 April 2008


What turns you on? For the kakapo, New Zealand's giant flightless parrot, the answer may be key to its survival. Only 86 remain in the wild and the birds only breed every three to five years.

Hatchlings usually emerge at the start of a bumper season for the fruit they feed on. The eggs are incubated for 30 days, so the kakapo must lay them long before the fruit ripens. But what triggers them to mate and lay at the most opportune time has been a mystery.

Now Andrew Fidler of the Cawthron Institute in Nelson, New Zealand, and his colleagues may have the answer. According to their hypothesis, the unripened fruit of the rimu - a type of conifer that kakapo feed on - contains chemicals that mimic the action of the birds' sex hormones. Prior to a bumper crop, kakapo eat more unripened fruit than usual. The chemicals in it prime the liver so that come summer, when the lengthening days trigger the birds' ovaries to produce the sex hormone oestrogen, the liver responds by producing more egg-yolk protein, essential for developing eggs (Wildlife Research, vol 35, p 1).
read more
(135 words)

Post a comment
Million acres of Guyanese rainforest to be saved in groundbreaking deal

Friday, March 28 2008 @ 06:22 PM UTC
Contributed by: MikeSchindlinger
Views: 5359
The Iwokrama reserve, part of one of the last four intact rainforests in the world


By Daniel Howden, Deputy Foreign Editor
Thursday, 27 March 2008

A deal has been agreed that will place a financial value on rainforests paying, for the first time, for their upkeep as "utilities" that provide vital services such as rainfall generation, carbon storage and climate regulation.

The agreement, to be announced tomorrow in New York, will secure the future of one million acres of pristine rainforest in Guyana, the first move of its kind, and will open the way for financial markets to play a key role in safeguarding the fate of the world's forests.

The initiative follows Guyana's extraordinary offer, revealed in The Independent in November, to place its entire standing forest under the protection of a British-led international body in return for development aid.
read more
(599 words)

Post a comment
PROFAUNA HELPS THE RELEASE OF RECENTLY SEIZED PARROTS

Friday, March 28 2008 @ 07:32 AM UTC
Contributed by: ProFauna
Views: 4912
ProFauna Indonesia has some good news for you,



On 29th February 2008, ProFauna Indonesia received a tip-off about six Eclectus parrots (Eclectus roratus) being smuggled from Maluku to Sulawesi and advised the forestry department which succeeded in foiling the trafficking attempt. Unfortunately, the government officers did not arrest the perpetrator who claimed that the parrots were gifts, but did seize the birds.

However ProFauna believes that he is a professional smuggler since he cruelly crammed the birds into water pipes. This is against the wildlife protection law which stipulates that trade in protected species is prohibited and offenders will get a maximum of 5-years in jail and Rp. 100 millions in fines.
read more
(100 words)

Post a comment
Cameroon rescues 1,200 parrots from trafficking

Thursday, February 14 2008 @ 10:26 PM UTC
Contributed by: MikeSchindlinger
Views: 6052
Jan 23, 2008


NAIROBI (AFP) ó Cameroon wildlife authorities have rescued at least 1,200 African Grey parrots being trafficked to Bahrain and Mexico for the exotic pet trade, an animal welfare group said on Thursday.

Kenya-based Wildlife Direct said Cameroon's ministry of forests and wildlife intercepted two shipments at Douala International Airport that were carrying the parrots to their destination.

It did not give the day they were intercepted, but said the birds are currently being cared for at Limbe Wildlife Centre (LWC), situated in the small fishing town of Limbe at the foot of Mount Cameroon.

In 2006, Cameroon had a legal quota of birds that it could export, but lost it temporarily last year after a ban was imposed on trading of birds owing to the global outbreak of avian flu.

"The ban on the movement of birds has been lifted (although Cameroon's quota for 2008 is zero birds), so the traders wanted to use up their 2006 quotas," said LWC chief veterinarian Felix Lankester.

"This is a tragic story of wildlife being exploited for the international trade in exotic pets, one of the most lucrative illegal trades in the world ... How many other shipments of birds make their way out of the country undetected we can only dread to imagine," he added.
read more
(97 words)

Post a comment
Within one week, authorities at Douala airport stopped the smuggling of about 1000 parrots

Tuesday, December 18 2007 @ 12:44 AM UTC
Contributed by: MikeSchindlinger
Views: 10093
By Vincent Gudmia Mfonfu in Yaounde



Wildlife law enforcement authorities in Cameroon, with technical as≠sistance from The Last Great Ape Organisation (LAGA), have seized some 500 parrots from forests in the South aboard an Ethiopian Airways plane at the Douala International Airport about to be smuggled.

Earlier, two Ghanaians, we learnt, were arrested for trying to smuggle 500 other parrots still at the Douala airport, bringing the number to 1000. The 500 parrots intercepted earlier, were released into the wild by officials of the Ministry of Forestry and Wildlife. Heading the operation, Forestry and Wildlife minister, Elvis Ngolle Ngolle, reiterated government's commitment to implement wildlife law and ensure sustainability.
read more
(184 words)

Post a comment


Who's Online
Guest Users: 7


Foster Parrots - Adoption and Conservation

Vote

How many years have you lived with a parrot?




Vote

Where does your parrot's species live? (Cast an additional vote for each bird you live with)




Adopt a Parrot