Amazon Expedition Travel

User Functions
Don't have an account yet? Sign up as a New User

Help support this site!
Help support this site... your donations are needed to support research, conservation, and rescue efforts.


U.S. Border cops seize parrots hidden in duffel bag

Saturday, June 30 2007 @ 03:40 PM UTC
Contributed by: MikeSchindlinger
Views: 4899
PHOENIX (Reuters) - U.S. Border police found ten Amazon parrots stuffed in the duffel bag of a man crossing from Mexico, authorities said on Thursday.

Customs and Border Protection officers at the San Ysidro port of entry, south of San Diego, Calif., found the small, green birds hidden in a bag in a pickup truck on Tuesday, and arrested the driver, a U.S. citizen.

CBP spokesman Vince Bond said the birds were placed in agricultural quarantine and transferred to the Department of Agriculture's veterinary services.

He said officers at two ports of entry south of San Diego had seized 152 wild birds since October 1 last year.

"This is an enforcement issue we take very seriously. We are doing our utmost to keep dangerous viruses and diseases from entering the United States," Bond said.

San Ysidro is the busiest border crossing in the world. Inspectors more frequently discover drugs and undocumented migrants smuggled from the sprawling industrial city of Tijuana, in Mexico.

http://www.reuters.com/article/domesticNews/idUSN2843157720070628
Ex-soldiers, parrots in mutual healing

Sunday, June 03 2007 @ 02:19 PM UTC
Contributed by: MikeSchindlinger
Views: 7561
Source :: REUTERS

A dog may be a man's best friend. But for some traumatised US war veterans, parrots are proving even more of a help.

Rescued and abused parrots are helping the veterans turn their lives around in a unique programme launched officially on Thursday at a Los Angeles Veterans Affairs facility.

The parrots — which sometimes pluck their own feathers when stressed out after years in cramped cages or abandoned by owners — are thriving too in what organisers say is an exercise in mutual healing.

"Both the veterans and the parrots have suffered some kind of traumatic stress. Both are learning to build compassion and empathy together," said Lorin Lindner, the psychologist behind the Serenity Park Sanctuary at the VA's headquarters in the Westwood section of Los Angeles.
read more
(210 words)

Post a comment
Kazakh's appeal after parrots die in custody

Thursday, May 24 2007 @ 07:21 PM UTC
Contributed by: MikeSchindlinger
Views: 4632
4.03, Mon May 21 2007


Kazakh police urged animal rights groups to help them take care of thousands parrots and turtles seized from a smuggler.

The appeal came just days after dozens of parrots died of hunger at a police station.

Interior Ministry spokesman Bagdat Kozhakhmetov: "We have all the conditions to keep humans in custody but there is nothing in legislation about maintaining seized animals."

He told reporters police seized 1,000 parrots, canaries, peacocks and pigeons, and 1,000 turtles, all packed in big bags, from an Uzbek citizen last week.

Mr Kozhakhmetov said: "There is a serious problem. They might die."

"We would like to call on NGOs (non governmental organisations), if they could help police officers deal with this risky and unexpected burden."

Last week dozens of parrots seized from a smuggler died of hunger and thirst before they could be handed over to a zoo.

Kazakhstan lies on a smuggling route for rare birds and animals being taken to Russia and Europe.

http://www.itv.com/news/world_cb6f689a752f32046137b4677090675e.html
Land Purchase Helps to Save Endangered Parrot

Sunday, March 25 2007 @ 04:52 PM UTC
Contributed by: MikeSchindlinger
Views: 6647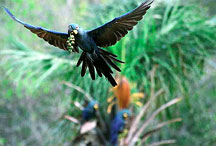 American Bird Conservancy has teamed up with the Brazilian conservation group Fundação Biodiversitas and the Disney Wildlife Conservation Fund to purchase more than 3,000 acres of vital habitat to protect the Lear's Macaw, one of the worlds' most endangered birds. The project will protect key nesting sites; ensure their protection through hiring of forest guards, and support education efforts in local communities.

The Critically Endangered Lear's Macaw is one of the rarest and most spectacular of the world's parrots, said George Fenwick, President of American Bird Conservancy. We are grateful for the support of the Disney Wildlife Conservation Fund and the outstanding work of Biodiversitas to conserve a species that is on the brink of extinction.
read more
(365 words)

Post a comment
Night Parrot - near extinction - confirmed in Australian Outback

Friday, February 16 2007 @ 03:37 PM UTC
Contributed by: Paul Brennan
Views: 9516
Bad news for one night parrot, good for species
Greg Roberts
February 16, 2007


ONE "dead" parrot in Queensland has risen phoenix-like from the ashes, as another has been given its last rites. The Australian has learned that National Parks and Wildlife Service officers have found a dead night parrot in the state's far west, confirming the survival of Australia's rarest bird.

In a discovery of international significance, the parrot was found in November in the Diamantina Lakes region after it flew into a barbed-wire fence. The Government has kept the find secret to avoid birdwatchers searching for night parrots while it does a survey to find more.
read more
(235 words)

Post a comment
"City Parrots" to investigate the city macaws of Medellin

Thursday, January 11 2007 @ 12:44 PM UTC
Contributed by: roelantjonker
Views: 7045
Araproject has landed in Medellin, Colombia, where forestry student Carlos Vásquez is presently conducting a pilot study into the Wild parrots of the city.

The local zoo, Zoológico Santa Fe de Medellín, released several macaws in the '80s when a local law made it illegal for the inhabitants of Colombia to own native species. Overwhelmed by the amount of macaws that were placed in their care they decided to free-range these parrots. They could come and go as they pleased. Food was available for them in aviaries.

These macaws adjusted well to their new surroundings and, much like the Dutch Macaws Araproject has been studying for the last couple of year in the Netherlands, have become very independent of there human caregivers.
read more
(291 words)

Post a comment


Who's Online
Guest Users: 3


Foster Parrots - Adoption and Conservation

Vote

How many years have you lived with a parrot?




Vote

Where does your parrot's species live? (Cast an additional vote for each bird you live with)




Adopt a Parrot