Amazon Expedition Travel

User Functions
Don't have an account yet? Sign up as a New User

Help support this site!
Help support this site... your donations are needed to support research, conservation, and rescue efforts.


Illegal Mexican Parrot Trade Targeted by New Ban

Thursday, October 02 2008 @ 03:39 AM UTC
Contributed by: Paul Brennan
Views: 8580
Illegal Mexican Parrot Trade Targeted by New Ban
Alexis Okeowo in México City
for National Geographic News
October 2, 2008

A new permanent ban on parrot sales in Mexico may protect the country's exotic birds from a thriving illegal wildlife trade, conservationists say.

Mexico considers half of its 22 parrot species endangered, and all but two are protected by federal law.

But between 65,000 and 78,000 parrots and guacamayas—a bigger type of parrot—are captured illegally every year, and most of these birds die each year before reaching their intended buyers.

The government has been unable to control the clandestine capture and sale of the protected birds, environmentalists say.

The new ban—an amendment to Mexico's wildlife law—will eliminate the parrot and guacamaya market completely.

read more
(592 words)

Post a comment
Black clouds on the horizon for birds of the world

Wednesday, September 24 2008 @ 06:36 PM UTC
Contributed by: MikeSchindlinger
Views: 5416
From field sparrows to boreal chickadees, 20 of the most common species in North America are being decimated, report warns

MARTIN MITTELSTAEDT
Globe and Mail, September 23, 2008 at 4:27 AM EDT

There has been a precipitous decline of more than 50 per cent in the populations of 20 of the most common North American birds over the past four decades, alarming conservationists, who say the trend is an indicator of a serious deterioration in the environment.

The figures were in the State of the World's Birds, a report released yesterday and posted on a related website. Canadian and U.S. figures showing the decline were based in part on the annual Christmas bird counts compiled by thousands of volunteers across North America, and on a separate breeding bird survey.
read more
(730 words)

Post a comment
Parrot smuggler gets 10 months behind bars

Sunday, July 13 2008 @ 05:40 PM UTC
Contributed by: MikeSchindlinger
Views: 6674
3:00 PM, July 7, 2008



A confessed parrot-smuggler from Los Angeles was sentenced Monday to 10 months in prison and two years supervised probation for his guilty plea to attempting to smuggle 44 birds into the U.S. from Mexico.

Candido Palacios, his wife Aracelia Urias-Palacios and one of their children were enterring the U.S. at the Otay Mesa checkpoint when inspectors heard birds screeching. A search of the vehicle uncovered 40 Conure parrots and 4 yellow-headed Amazon parrots - with a wholesale value of $7,200, according to court records.
read more
(92 words)

Post a comment
Jane Goodall attends opening of Foster Parrots sanctuary

Saturday, May 24 2008 @ 12:08 AM UTC
Contributed by: MikeSchindlinger
Views: 8421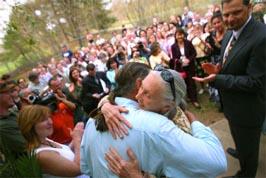 01:00 AM EDT on Thursday, May 8, 2008
By Maria Armental
Journal Staff Writer

HOPKINTON, RI — At age 4, Jane Goodall hid in a hen house to find out how hens laid eggs.

Once she found out, she ran to her mother, full of excitement. Her mother –– who by then had called the police thinking young Jane was missing –– sat her down and asked her to share the story.

Years later, Goodall turned that precocious drive for scientific discovery, passion for animals and observation skills –– plus a fair share of patience –– into a lifelong career, one that has taken her all over the world.

Yesterday, the 74-year-old British ethologist, known by generations around the world for her work on chimpanzees' behavior in Tanzania, made an unscheduled stop at Hopkinton's New England Exotic Wildlife Sanctuary, a "retirement home" for parrots and other exotic species at the site of the former Chickadee Farms, a former poultry business that once produced some 33 million eggs a year.

"This was the end station before [the chickens] went to the supermarkets," state Rep. Brian Patrick Kennedy, D-Hopkinton, said yesterday as he was to address a crowd of friends, volunteers and parrot foster parents for the sanctuary's official ribbon cutting.
read more
(583 words)

Post a comment
Pirated Parrots

Thursday, May 22 2008 @ 05:38 PM UTC
Contributed by: ProFauna
Views: 7291
22nd May 2008 PRESS RELEASE
Thousands of Indonesian parrots are smuggled to the Philippines

The already dwindling population of Indonesian parrots due to deforestation is further threatened by poaching. About 10,000 parrots (Lories and Cockatoos) are caught from the wild in North Halmahera, Indonesia, each year to supply the domestic and the international illegal wildlife trade.

In their latest report entitled 'PIRATED PARROTS', the Indonesian wildlife conservation NGO ProFauna Indonesia, revealed the evidence on the smuggling of wild caught parrots in Sulawesi and North Halmahera in Indonesia to Philippines during their investigation.

The investigation, which was supported by the Royal Society for the Prevention of Cruelty to Animals (RSPCA) and conducted in 2007, uncovered the parrot smuggling network from Indonesia to the Philippines. The parrots poached in North Halmahera are; white Cockatoos (Cacatua alba), chattering Lorys (Lorius garrulus), Eclectus parrots (Eclectus roratus) and the violet-necked Lorys (Eos squamata). The Eclectus parrot is a protected species which is prohibited for trade.
read more
(817 words)

Post a comment
Baby parrots rescued from poachers in Trinidad

Thursday, May 01 2008 @ 04:01 AM UTC
Contributed by: MikeSchindlinger
Views: 22867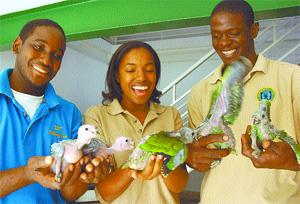 RECUPERATING: Zookeepers Arnold Jupiter, from left, Elena Hernandez and Christian Blake-Prescott with some of the parrot hatchlings which will eventually be returned to their natural habitat in the Nariva wetlands. -Photo: JERMAINE CRUICKSHANK

Friday, April 25th 2008

Zookeeper Arnold Jupiter, has gone so far as to keep the young birds at his home, since they need 24-hour care.

Just talking about the circumstances surrounding the chicks' arrival was enough to evoke anger among some of their human guardians.

The chicks were stolen from their nests by poachers who attacked during the day, while the adults were out foraging for food.

The birds nest in the hollows of palms found in the wetlands and were reached by felling the palms, a tactic that would undoubtedly have killed some of their siblings.
read more
(231 words)
1 comments



Who's Online
Guest Users: 8


Foster Parrots - Adoption and Conservation

Vote

How many years have you lived with a parrot?




Vote

Where does your parrot's species live? (Cast an additional vote for each bird you live with)




Adopt a Parrot