Amazon Expedition Travel

User Functions
Don't have an account yet? Sign up as a New User

Help support this site!
Help support this site... your donations are needed to support research, conservation, and rescue efforts.


Parrot smuggler gets 10 months behind bars

Sunday, July 13 2008 @ 05:40 PM UTC
Contributed by: MikeSchindlinger
Views: 5873
3:00 PM, July 7, 2008



A confessed parrot-smuggler from Los Angeles was sentenced Monday to 10 months in prison and two years supervised probation for his guilty plea to attempting to smuggle 44 birds into the U.S. from Mexico.

Candido Palacios, his wife Aracelia Urias-Palacios and one of their children were enterring the U.S. at the Otay Mesa checkpoint when inspectors heard birds screeching. A search of the vehicle uncovered 40 Conure parrots and 4 yellow-headed Amazon parrots - with a wholesale value of $7,200, according to court records.
read more
(92 words)

Post a comment
Jane Goodall attends opening of Foster Parrots sanctuary

Saturday, May 24 2008 @ 12:08 AM UTC
Contributed by: MikeSchindlinger
Views: 7631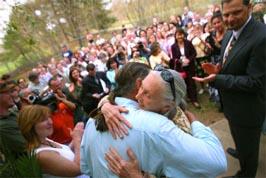 01:00 AM EDT on Thursday, May 8, 2008
By Maria Armental
Journal Staff Writer

HOPKINTON, RI — At age 4, Jane Goodall hid in a hen house to find out how hens laid eggs.

Once she found out, she ran to her mother, full of excitement. Her mother –– who by then had called the police thinking young Jane was missing –– sat her down and asked her to share the story.

Years later, Goodall turned that precocious drive for scientific discovery, passion for animals and observation skills –– plus a fair share of patience –– into a lifelong career, one that has taken her all over the world.

Yesterday, the 74-year-old British ethologist, known by generations around the world for her work on chimpanzees' behavior in Tanzania, made an unscheduled stop at Hopkinton's New England Exotic Wildlife Sanctuary, a "retirement home" for parrots and other exotic species at the site of the former Chickadee Farms, a former poultry business that once produced some 33 million eggs a year.

"This was the end station before [the chickens] went to the supermarkets," state Rep. Brian Patrick Kennedy, D-Hopkinton, said yesterday as he was to address a crowd of friends, volunteers and parrot foster parents for the sanctuary's official ribbon cutting.
read more
(583 words)

Post a comment
Pirated Parrots

Thursday, May 22 2008 @ 05:38 PM UTC
Contributed by: ProFauna
Views: 6463
22nd May 2008 PRESS RELEASE
Thousands of Indonesian parrots are smuggled to the Philippines

The already dwindling population of Indonesian parrots due to deforestation is further threatened by poaching. About 10,000 parrots (Lories and Cockatoos) are caught from the wild in North Halmahera, Indonesia, each year to supply the domestic and the international illegal wildlife trade.

In their latest report entitled 'PIRATED PARROTS', the Indonesian wildlife conservation NGO ProFauna Indonesia, revealed the evidence on the smuggling of wild caught parrots in Sulawesi and North Halmahera in Indonesia to Philippines during their investigation.

The investigation, which was supported by the Royal Society for the Prevention of Cruelty to Animals (RSPCA) and conducted in 2007, uncovered the parrot smuggling network from Indonesia to the Philippines. The parrots poached in North Halmahera are; white Cockatoos (Cacatua alba), chattering Lorys (Lorius garrulus), Eclectus parrots (Eclectus roratus) and the violet-necked Lorys (Eos squamata). The Eclectus parrot is a protected species which is prohibited for trade.
read more
(817 words)

Post a comment
Baby parrots rescued from poachers in Trinidad

Thursday, May 01 2008 @ 04:01 AM UTC
Contributed by: MikeSchindlinger
Views: 20884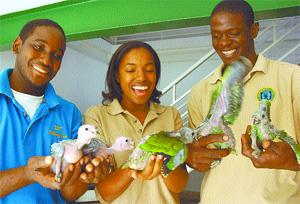 RECUPERATING: Zookeepers Arnold Jupiter, from left, Elena Hernandez and Christian Blake-Prescott with some of the parrot hatchlings which will eventually be returned to their natural habitat in the Nariva wetlands. -Photo: JERMAINE CRUICKSHANK

Friday, April 25th 2008

Zookeeper Arnold Jupiter, has gone so far as to keep the young birds at his home, since they need 24-hour care.

Just talking about the circumstances surrounding the chicks' arrival was enough to evoke anger among some of their human guardians.

The chicks were stolen from their nests by poachers who attacked during the day, while the adults were out foraging for food.

The birds nest in the hollows of palms found in the wetlands and were reached by felling the palms, a tactic that would undoubtedly have killed some of their siblings.
read more
(231 words)
1 comments

Bumper harvests get endangered parrots laying

Monday, April 07 2008 @ 09:43 AM UTC
Contributed by: MikeSchindlinger
Views: 5634
03 April 2008


What turns you on? For the kakapo, New Zealand's giant flightless parrot, the answer may be key to its survival. Only 86 remain in the wild and the birds only breed every three to five years.

Hatchlings usually emerge at the start of a bumper season for the fruit they feed on. The eggs are incubated for 30 days, so the kakapo must lay them long before the fruit ripens. But what triggers them to mate and lay at the most opportune time has been a mystery.

Now Andrew Fidler of the Cawthron Institute in Nelson, New Zealand, and his colleagues may have the answer. According to their hypothesis, the unripened fruit of the rimu - a type of conifer that kakapo feed on - contains chemicals that mimic the action of the birds' sex hormones. Prior to a bumper crop, kakapo eat more unripened fruit than usual. The chemicals in it prime the liver so that come summer, when the lengthening days trigger the birds' ovaries to produce the sex hormone oestrogen, the liver responds by producing more egg-yolk protein, essential for developing eggs (Wildlife Research, vol 35, p 1).
read more
(135 words)

Post a comment
PROFAUNA HELPS THE RELEASE OF RECENTLY SEIZED PARROTS

Friday, March 28 2008 @ 07:32 AM UTC
Contributed by: ProFauna
Views: 4192
ProFauna Indonesia has some good news for you,



On 29th February 2008, ProFauna Indonesia received a tip-off about six Eclectus parrots (Eclectus roratus) being smuggled from Maluku to Sulawesi and advised the forestry department which succeeded in foiling the trafficking attempt. Unfortunately, the government officers did not arrest the perpetrator who claimed that the parrots were gifts, but did seize the birds.

However ProFauna believes that he is a professional smuggler since he cruelly crammed the birds into water pipes. This is against the wildlife protection law which stipulates that trade in protected species is prohibited and offenders will get a maximum of 5-years in jail and Rp. 100 millions in fines.
read more
(100 words)

Post a comment


Who's Online
Guest Users: 3


Foster Parrots - Adoption and Conservation

Vote

How many years have you lived with a parrot?




Vote

Where does your parrot's species live? (Cast an additional vote for each bird you live with)




Adopt a Parrot