Amazon Expedition Travel

User Functions
Don't have an account yet? Sign up as a New User

Help support this site!
Help support this site... your donations are needed to support research, conservation, and rescue efforts.


Plenty to Squawk About - Mira Tweti, LA Times

Tuesday, February 17 2004 @ 09:50 PM UTC
Contributed by: MikeSchindlinger
Views: 10849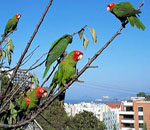 Import recent article about the trends in parrots as pets, from an award- winning journalist.
read more
(404 words)
2 comments

Parrots Housed in Pairs Fair Better than Singles, research shows

Friday, January 23 2004 @ 08:22 PM UTC
Contributed by: MikeSchindlinger
Views: 6871

It has been suggested that isolation from conspecifics may contribute to the development of abnormal behaviors that are common in captive parrots, including stereotypy, feather plucking, excessive fearfulness and aggression. Thus, we assessed the influence of isosexual pair housing on the development of these behaviors, as well as the incidence of illness and injury, in young Orange-winged Amazon parrots (Amazona amazonica).
read more
(536 words)

Post a comment
Awesome Careers That are For the Birds

Wednesday, January 21 2004 @ 08:40 AM UTC
Contributed by: paulafitz
Views: 15007
"What type of career can I find that involves companion birds?" is a question that many of us bird lovers have pondered at one time or another. Answers to this question are provided in "The Companion Bird Lover's Guide to Careers" (PJ Publications, 2004). Provides valuable information about careers involving companion birds -- including avian rescue founder and director, avian veterinarian, veterinarian technician, freelance writer, marketing manager, bird boarding entrepreneur, and selling wares to the companion bird market. Information about this new booklet -- as well as articles about companion birds -- is available at http://www.pjpublications.com.
Parrot's oratory stuns scientists - BBC article

Sunday, January 18 2004 @ 02:21 AM UTC
Contributed by: MikeSchindlinger
Views: 5774
Feathered prodigy: N'kisi leads the field

The finding of a parrot with an almost unparalleled power to communicate with people has brought scientists up short. The bird, a captive African grey called N'kisi, has a vocabulary of 950 words, and shows signs of a sense of humour.

He invents his own words and phrases if he is confronted with novel ideas with which his existing repertoire cannot cope - just as a human
child would do.
read more
(386 words)

Post a comment
Another View: The Birds Are Singing This Morning; It's Their Day

Thursday, January 01 2004 @ 04:54 PM UTC
Contributed by: denisekelly
Views: 5426
National Bird Day Op Ed - by Sharon St. Joan of Best Friends Animal Society published in The Salt Lake Tribune.

read more
(704 words)
1 comments

National Bird Day Endorsement - Douglas Causey, Senior Biologist & Ornithologist, Harvard

Tuesday, December 16 2003 @ 05:54 PM UTC
Contributed by: Admin
Views: 5293
All wild birds have protected status in the US, in response to our concern over decades about their population declines. And yet that same kind of protection is not given to wild birds native to other countries when we permit trade here that impacts their lives. Even when that trade is unsustainable or inhumane.
read more
(175 words)
2 comments



Who's Online
Guest Users: 3


Foster Parrots - Adoption and Conservation

Vote

How many years have you lived with a parrot?




Vote

Where does your parrot's species live? (Cast an additional vote for each bird you live with)




Adopt a Parrot