Amazon Expedition Travel

User Functions
Don't have an account yet? Sign up as a New User

Help support this site!
Help support this site... your donations are needed to support research, conservation, and rescue efforts.


The Parrot Action Plan: A global evalutation with recommendations

Monday, March 08 2004 @ 04:42 PM UTC
Contributed by: MikeSchindlinger
Views: 10472
The IUCN put together this action plan for all of the world's endangered parrots, including descriptions of the problems facing each species, and recommendations for their recovery.

This book is the comprehensive go-to guide for anyone interested in the conservation of wild parrots. READ
The Real Macaws - NATURE

Wednesday, February 18 2004 @ 02:09 AM UTC
Contributed by: MikeSchindlinger
Views: 8780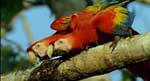 PBS's NATURE takes you to the deepest enclaves of the Amazon for a first-hand look at macaws. Hosted by Tony Junitper, with Charlie Munn.
read more
(216 words)
1 comments

Red-crowned Parrot Amazona viridigenalis: Short History of Sightings in Florida

Tuesday, January 20 2004 @ 03:52 PM UTC
Contributed by: Admin
Views: 9617
The Red-crowned Parrot is a popular species in the pet trade, where it is often known as the Green-cheeked Parrot. It is native to the eastern coast of Mexico and was one of the first of the amazons to appear in numbers in South Florida.
read more
(277 words)
1 comments

Harvesting, local trade, and conservation of parrots in the Northeastern Peruvian Amazon

Monday, January 12 2004 @ 01:03 AM UTC
Contributed by: MikeSchindlinger
Views: 5651
Gonzalez JA
BIOLOGICAL CONSERVATION
114 (3): 437-446 DEC 2003

Abstract:
In some places of the northeastern Peruvian Amazon the harvesting and local trade of parrot nestlings is still a common practice (loreada) that takes place every year between February and April, despite being banned by the national laws. Between 1996 and 1999, 1 monitored the use of these birds in 3890-ha of Mauritia flexuosa-palm swamps, located close to the village of Victoria (Loreto, Peru). Seven species of parrots were collected by local poachers in the study area, with Amazonia amazonica (61.1% of the captures) and Ara ararauna (25.9%) the most commonly harvested.
read more
(163 words)
1 comments

National Bird Day 2004: New awareness about birds as pets

Monday, January 05 2004 @ 06:34 AM UTC
Contributed by: Admin
Views: 6117

The Animal Protection Institute (API) in coordination with the Avian Welfare Coalition (AWC) is calling on activists around the U.S. to take action on behalf of captive birds by drawing attention to the exploitation of other country's native birds by the U.S. pet industry on January 5 -- National Bird Day.

"National Bird Day" is not only a good day to take time to appreciate the native wild birds flying free outside our windows, it is also a perfect time to reflect on how we treat the native birds of other countries. While we have enacted laws to protect our native birds -- such as blue jays, cardinals, and crows -- from commercial exploitation, we fail to recognize the inconsistency in allowing the pet industry to exploit the birds of other countries.
read more
(1689 words)
2 comments

Children throw fauna traffickers a lifeline

Sunday, January 04 2004 @ 05:11 AM UTC
Contributed by: MikeSchindlinger
Views: 5829
By Charles Seabrook in Manaus, Brazil December 26, 2003

In the heart of Brazil's rainforest, a riverboat nudges up to a trading post along the January river, an Amazon tributary. Children laden with animals quickly converge on the passengers. A girl shows off a bright blue-and-red parrot. Another girl has a two-metre-long snake draped over her shoulders. A boy holds up a sad-eyed monkey. The animals are for sale. When asked where she got the parrot, the first girl - an 11-year-old named Isabel - points to the lush rainforest across the river.

read more
(513 words)
1 comments



Who's Online
Guest Users: 6


Foster Parrots - Adoption and Conservation

Vote

How many years have you lived with a parrot?




Vote

Where does your parrot's species live? (Cast an additional vote for each bird you live with)




Adopt a Parrot