Amazon Expedition Travel

User Functions
Don't have an account yet? Sign up as a New User

Help support this site!
Help support this site... your donations are needed to support research, conservation, and rescue efforts.


Curacao sends back smuggled parrots and macaw after stopping Venezuelan vessel

Thursday, August 19 2004 @ 06:10 AM UTC
Contributed by: MikeSchindlinger
Views: 6145
Authorities in neighboring Curacao indicate that the island will return 14 parrots and 1 macaw parrot that were illegally taken from Venezuela to be sold abroad.

The birds had been snatched in Falcon and Delta Amacuro States and sold. On May 18, Curacao police boarded Venezuelan boat Sol de Caribe, seizing 30 parrots illegally transported without proper care.
read more
(219 words)
1 comments

U.S., Puerto Rico race to save parrots

Thursday, August 19 2004 @ 06:04 AM UTC
Contributed by: MikeSchindlinger
Views: 5415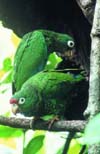 La Mohicana, as workers have named the 11-year-old female, has endured a lifetime of respiratory difficulty. This morning, her handlers found her sitting on the floor of her cage, refusing to eat. They rushed her into the clinic, laid her down on the table and put an oxygen mask over her head.

Now she has stopped breathing altogether. Velez, a wildlife biologist, calls for a syringe of the stimulant Dopram to revive her and directs an assistant to contact the veterinarian.

"Esta volviendo," Velez says. "She's coming back."

Every bird is precious here at the Luquillo Aviary, where the U.S. Fish and Wildlife Service is working to save the most endangered parrot in the world.


read more
(444 words)
1 comments

New EU 'will boost illegal wildlife trade'

Tuesday, April 27 2004 @ 12:16 AM UTC
Contributed by: MikeSchindlinger
Views: 6495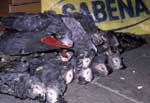 UNSCRUPULOUS traders will exploit the enlargement of the European Union to sell illegally obtained wildlife, experts will warn today.

Speaking as the EU prepares to welcome ten new members, Traffic and WWF, the global environment network, urged the accession countries to increase efforts to stem the illegal wildlife trade.

read more
(311 words)
2 comments

Concern mounts over parrot trade

Monday, April 26 2004 @ 02:59 PM UTC
Contributed by: MikeSchindlinger
Views: 14498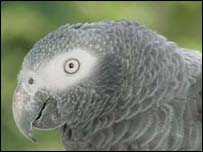 Conservationists in Nigeria are concerned by a growing trade in the export of grey parrots from Nigeria and neighbouring Cameroon.

By Anna Borzello
BBC, Lagos
read more
(533 words)
1 comments

There's no "there" there.

Saturday, April 24 2004 @ 08:06 AM UTC
Contributed by: visualizer
Views: 5550
You often hear that "parrots were meant to be in the wild, where humans do not belong, where humans do not intervene," or similar ravings. It's bunk.
Humans need the wild places even more as everyone on the planet migrates to cities.
read more
(408 words)
3 comments

The Riddle of the Spix

Tuesday, April 06 2004 @ 03:29 AM UTC
Contributed by: MikeSchindlinger
Views: 4913

When is a species extinct, even though living members still exist? Before we can look at an answer to this grave and tantalizing question, let's look at the Spix's Macaw (Cyanopsitta spixii). This gray-headed, blue-bodied bird was thought to be gone from the wild until 1990, though some still remained in private hand in captivity around the world (and still do). Then, traveling in the forests near Curaca, Brazil, two ornithologists spotted one lone male Spix, the last of its kind to have known life at the tops of the trees. It was the only Spix on earth eating a diet perfectly suited to its nature. It was the only Spix which knew the local seasonal variations in fruits, and in water, as any farmer would know his own land. This was the only living Spix which knew, from its own experience and from watching the experiences of others, what living threats to its survival were all around.
read more
(2020 words)
1 comments



Who's Online
Guest Users: 4


Foster Parrots - Adoption and Conservation

Vote

How many years have you lived with a parrot?




Vote

Where does your parrot's species live? (Cast an additional vote for each bird you live with)




Adopt a Parrot

Current Parrot News
GeekLog can not reach the supplied RDF file at 2017-07-27 15:56:20. Please double check the URL provided. Make sure your url is correctly entered and it begins with http://. GeekLog will try in one hour to fetch the file again.