Parrots on parade at school and nursing home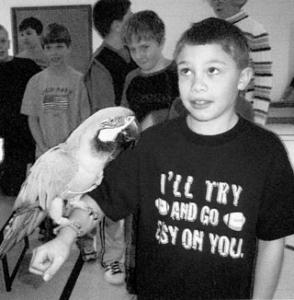 (Submitted photo) Josh Rivera, a fourth grader at Merrimac Elementary School, looks for guidance as Tiko, the blue and gold Macaw, perches on his arm.
Exotic birds entertain and educate.
Parrots of all types, sizes ages and colors have been on parade.
Parrots have become popular pets in recent years and, although they are beautiful, many new bird owners do not realize the challenges of keeping birds only recently removed from the wild.
Randy and Sandi Meinholtz, Norman and Jeanette Loether Hess, of Madison and Laura Alt originally from Sauk City, are members of the Fine Feathered Friends Sanctuary Inc. of Madison. The bird rescue group brought a variety of exotic birds to entertain and educate people of all ages at Maplewood Nursing Home and then at Merrimac Elementary School and the Merrimac Women's Club.
They have a message: Because they rescue and rehabilitate birds if their owners can no longer handle them, they suggest prospective bird owners adopt a needy bird instead of purchasing a pet bird.
One problem, Randy Meinholz said, is people don't realize how long these exotic birds live.
"Some live up to 100 years and in some cases they will outlive their owners so it is necessary to take that into consideration, to read books and learn as much as you can before making your purchase or adoption arrangement," he said.
He recommends knowing in advance that having any kind of a pet takes patience and is a lot of work. When adopting, members of the organization say the bird chooses its owner and members of Fine Feathered Friends must approve because this will be a long-term relationship.
The parrots first stopped at Maplewood Nursing Home in Sauk City on Feb 19, where the birds entertained a dining room full of spectators, including Hess' mother. Most of the residents took turns holding the birds and having their pictures taken. The photos were later mailed to them as keepsakes.
The parrots appeared at Merrimac Elementary School on March 9 where society member, Mike Zitnick of Lodi, joined them with his bird Norman. More than 40 students and staff enjoyed an hour show. Pictures were taken and students asked many good questions.
Tico the Macaw is more than 40 years old and three-feet from head or beak to toe. Randy Meinholtz's pride and joy is Elvis, the King. Born on Fourth of July, Elvis is 70 years old already.
Sandi Meinholtz's favorite is her umbrella cockatoo named Gilda who loves to hang upside down and is in the process of learning to play basketball and roller skate. Her owner/trainer said cockatoos are hard to raise or handle. She has been bitten a few times. She said the bottom bill of cockatoos is razor sharp, and they also demand more attention.
Norman whistled, "Oh I Wish I Were In The Land Of Cotton," (Dixieland) while Elvis or was it Sammy, whistled at the girls. Sammy also bows his head when someone says, "Let's pray."
Sammy, Hess' favorite parrot, likes kiss kisses, talking on the phone to Norman, swinging, playing tug-a-war and asking questions like, "What's the matter?" He has entertained at many family get togethers and now at campgrounds.
Of course the birds talked all the way out from Madison and all the way back and not as much when they were on display
At Merrimac, students learned birds like to be up high in any room. They constantly chew, and owners must cover things because birds are messy, especially after eating. They don't like food stuck to their beaks and will do anything or wipe on anything to get it off.
There are more than 350 kinds of parrots, some have a vocabulary of more than 200 words. They like cool temperatures, seeds, both Kiwi and sunflower. Parrots also see in color while many other birds and animals are color blind. In Australia parrots are shot like crows because they cause so much crop damage.
Like all pets, these parrots get jealous, lonely, and want as much attention as they can get. That's why it's smart to have more than one - for companionship. These birds love to go for rides in a car or camper, be held, petted, and doted over. They enjoy entertaining or showing off to family and friends.
Birds that are neglected or mistreated will commit suicide by beating their head against their cage, pulling out feathers until they bleed or do serious harm to themselves.
After lunch at the school, the show continued at the municipal building where the Merrimac Women's Club was entertained and got into bird holding and picture taking.
The women wanted to know how to tell a male from a female. They learned that like other wild birds, the male is usually marked differently and has more vibrant color. When that is not the case, a blood sample will answer the question.
The Fine Feathered Friends Sanctuary Inc. is a nonprofit organization managed by volunteers. Their mission is to reduce euthanasia due to lack of proper homes, to rehabilitate pets so they can be adopted into loving, lifetime homes, and to assist willing pet owners in obtaining and maintaining appropriate pets for their lifestyle.
The sanctuary depends solely on private donations. They supplement their income by providing bird boarding services and the plan is to provide other services in the future. All proceeds go directly to bird rescue, including adoption counseling, behavior counseling, bird boarding, virtual adoptions for schools and scouting groups, and consulting on exotic bird care - proper diet, training and care.
As many as 60 to 80 birds have been in the sanctuary at one time. Their wish list includes: fresh fruits and vegetables, Beak Appetite, Zupreem Avian Maintenance, fruit blend, Sunseed Sunscription - Large Hook-bill, Sunseed Sunscription-Cockatiel blend w/o sunflower seeds, paper towels, Shaklee Basic H cleaner, Shaklee Basic G. disinfectant, antiseptic wipes, unscented, towels, rags, Scrubbies, and parrot-safe toys of all sizes.
Individuals or organizations interested in having parrots educate "Parties With Parrots," or in sending a donation, call (608) 222-6420 or (608) 274-2615.