Parrots shocked, 1 dead
Monday, September 06 2004 @ 08:55 AM UTC
Contributed by: MikeSchindlinger
Posted on Thu, Aug. 26, 2004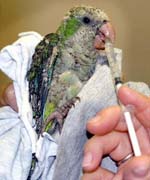 FEEDING TIME: One of the parrots that survived electrical shock is fed with a syringe at pet rescue shelter. R.C. WHITE/FOR THE HERALD

FORT LAUDERDALE

Parrots shocked, 1 dead

Fort Lauderdale firefighters responding to a call about a power outage on Wednesday afternoon instead found nine Quaker parrots that appeared to have been suffered from electrical shock after a power line arced and snapped in a neighborhood west of the intersection of Sunrise Boulevard and Federal Highway.
One was dead, and the others -- about six weeks old -- were struggling, their feathered blackened and curled. The fire-rescue unit placed the birds in two cardboard boxes and took them to Abandoned Pet Rescue nearby, said rescue volunteer Debbie Turner.

Aviary technician Carrie Efstathion spent the afternoon trying to raise the birds' temperature by placing them in what looks like a small picnic cooler.

''A few of them looked pretty bad,'' Turner said. ``Birds are very fragile. This stress of [the treatment] is probably worse than being electrocuted.''


-- ASHLEY FANTZ
Orginal Article:
http://www.miami.com/mld/miamiherald/news/local/states/florida/counties/broward_county/9496993.htm
---

http://www.freeparrots.net/article.php?story=20040906085551560