Jane Goodall attends opening of Foster Parrots sanctuary
Saturday, May 24 2008 @ 12:08 AM UTC
Contributed by: MikeSchindlinger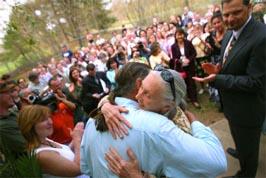 01:00 AM EDT on Thursday, May 8, 2008
By Maria Armental
Journal Staff Writer

HOPKINTON, RI — At age 4, Jane Goodall hid in a hen house to find out how hens laid eggs.

Once she found out, she ran to her mother, full of excitement. Her mother –– who by then had called the police thinking young Jane was missing –– sat her down and asked her to share the story.

Years later, Goodall turned that precocious drive for scientific discovery, passion for animals and observation skills –– plus a fair share of patience –– into a lifelong career, one that has taken her all over the world.

Yesterday, the 74-year-old British ethologist, known by generations around the world for her work on chimpanzees' behavior in Tanzania, made an unscheduled stop at Hopkinton's New England Exotic Wildlife Sanctuary, a "retirement home" for parrots and other exotic species at the site of the former Chickadee Farms, a former poultry business that once produced some 33 million eggs a year.

"This was the end station before [the chickens] went to the supermarkets," state Rep. Brian Patrick Kennedy, D-Hopkinton, said yesterday as he was to address a crowd of friends, volunteers and parrot foster parents for the sanctuary's official ribbon cutting.
The sanctuary on Woodville Alton Road, established by the nonprofit group Foster Parrots, has been operational for about a year and already houses some 300 parrots; several African Sulcata tortoises, which can grow up to 2½-feet long and weigh well over 100 pounds; a Patagonian cavy, an Argentinean rodent that resembles a hare; and a handful of porcupines. In most cases, the parrots at the sanctuary were once family pets whose owners could no longer care for them.

Now, "This is going to be the place where they are going to be, hopefully, spending the rest of their life," said Kennedy. .

Goodall, delayed for nearly an hour by traffic, arrived at 3:54 via a Toyota Prius and carrying her characteristic Mr. H., a plush monkey that Gary Haun, a blind magician, had given her for her birthday more than a decade ago.

The monkey's name reflects both the giver's name, Haun, and his message, Hope, said Mary Lewis, vice president of the Jane Goodall Institute and Goodall's assistant.

"You all know me as someone who studies chimpanzees," Goodall said standing in front of the sanctuary's door, as hundreds of birds screeched for attention in the background.

In front of her was a crowd of some 100 people trying to hear her words and capture her every move on camera.

"But my fascination with parrots," Goodall continued, "started way earlier."

Goodall said she became attracted to parrots' language skills –– referring to N'kisi, an African Grey who upon meeting Goodall reportedly welcomed her by saying "got a chimp?" –– and spoke against keeping animals as pets, if the owners don't have the time to properly care for them.

"So many people think that it's cute to buy a parrot and take it into their home, and really, it's so unsuitable," Goodall said, saying Foster Parrots' mission matched her own goals.

"My personal mission is to make the world a better place for all living beings," Goodall said. "And what started with chimpanzees moved to the rainforest and moved to all the species that live in the world's forests."

In the end, she said, it's all about educating people and helping animals.

And while her assistant checked the clock –– as it turns out her day was far from over –– Goodall chatted a bit while she signed books, photos and anything presented to her, even when it required a special Sharpie.

"Hear your heart. Together we can change the world," she wrote to one.

"Follow your dream," to a 14-year-old named Sage.

"Together we can make this a better world for ALL," was her message to Debra Curtin, who is trying to license a primate sanctuary in Winthrop, Mass.

By 5:17, she and her team were back on the road.

Her next stop: Newport, where she was to address a private group at the Malbone House, one of the Newport mansions.

Today, she is expected to speak in Boston. Then, it's off to Toronto, England, Belgium, Tanzania, France, back to Tanzania, and on it goes.

With such hectic schedule, Goodall said, she has no time for a pet.

And yet, she said, "what I miss is having a dog."

To find out more about the New England Exotic Wildlife Sanctuary or to make a donation, visit www.fosterparrots.com or send a donation to Foster Parrots Ltd., P.O. Box 650, Rockland, MA 02370.

http://www.projo.com/news/environment/content/JANE_GOODALL08_05-08-08_RJA2H78_v81.37330d1.html
---

http://www.freeparrots.net/article.php?story=20080511140818366