Exotic Parrots Return to Cook Islands
Saturday, October 06 2007 @ 01:50 AM UTC
Contributed by: MikeSchindlinger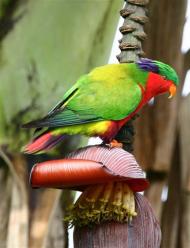 WELLINGTON, New Zealand (AP) — Two centuries after a dazzlingly feathered parrot called the Rimitara lorikeet disappeared from the Cook Islands, a breeding colony of the birds has been re-established with the help of the islands' royalty.

About 100 years ago after the parrots died out on the Cook Islands, the queen of Rimitara Island in French Polynesia to the east issued a royal decree that locals say saved the last naturally occurring population of the lorikeet, one of the Pacific's most beautiful parrots.

The decree prevented lorikeets from being caught and removed from Rimitara.

But now her royal counterpart, Queen Rongomatane of Atiu in the Cook Islands, has accompanied 27 of the birds on the journey back to her island.
Already, the birds have spread over the whole 12 square miles of Atiu, a coral atoll also known as Enuamanu (land of the birds) 117 miles northeast of Rarotonga, the capital of the Cook Islands.

"This was the bird that provided the feathers for chiefs and ceremonial costumes — and most red-feathered birds in the Pacific have been wiped out," Cook Islands Natural Heritage Trust head Gerald McCormack said Thursday.

Four days of celebrations followed the bird's return to Atiu, which has 570 people, starting with a giant feast led by Queen Rongomatane and dignitaries from Rimitara.

"Every night and every day they feasted and sang songs and made up poems about the bird," McCormack said.

"They were incredibly excited because this bird is a traditional icon of incredible importance," he said.

The project, led by McCormack, has taken 15 years from inception — the last seven years taken up by negotiations with Rimitara people and officials in French Polynesia over the transfer of the birds to Atiu.

Many people on Rimitara had opposed the plan because they were convinced the birds would die on Atiu, he said.

After examining food supplies, plants, nesting trees, competitor birds and predator species, "I don't think there's any doubt at all about success" of the relocation, McCormack said.

"I would expect these birds to boom," creating "a little bit more of a barrier against extinction," he said.

Up to 1,000 of the birds live in the wild on Rimitara.

The arrival of the black rat or ship's rat in the region in the mid 1800s introduced a new predator for the lorikeet — never put at risk by the smaller, vegetarian Polynesian rat that is present on both Atiu and Rimitara.

All the other islands in French Polynesia are infested with ship's rats.

Ship's rats don't live on Atiu and McCormack said a program is being developed to ensure they don't arrive.

The relocation project had been aided by British Birdwatching Fair 2006, BirdLife International, the Ornithological Society of Polynesia, the Zoological Society of San Diego, and the Te Ipukarea Society — BirdLife's affiliate in the Cook Islands.

From;
http://ap.google.com/article/ALeqM5i2tHiuGUr16nPVnE0pZPB708rnNw
---

http://www.freeparrots.net/article.php?story=20071006015017447