Major decline in wild bird populations - conservation group says
Monday, January 01 2007 @ 11:26 PM UTC
Contributed by: MikeSchindlinger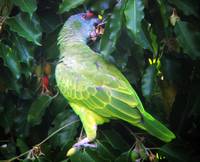 Sunday, December 31st 2006

A local bird watching group says there is a "major decline" in wild bird populations.

According to the Guyana Amazon Tropical Birds Society (GATBS), the inability of local exporters to fill their quotas for some species highlights a big drop in the numbers of wild birds and is cause for great concern. In a statement the group says local exporters are finding it difficult to acquire some of the most demanded species on the market. Currently, parrots and macaws, which are favoured as pets abroad, are highly sought-after for trade. The Blue-and-Yellow Macaw, the Festive Parrot, the Blue Cheeked Parrot, the Caica Parrot and the Orange-winged Parrot have been identified as some of the species that have suffered a decrease in numbers. Some traders are reporting that they have not been able to acquire as little as 60 birds of one species over the past year. "This emphasises the detriment to the wild populations when extensive harvesting is being carried out without constant monitoring," the GATBS says. "Such a vast decline in the wild bird population poses a serious threat not only to the future of the bird trade but also the tourism industry which is promoting birding as a major activity."
The group warns that continued harvesting without knowledge of the wild bird population could threaten exporters.

Additionally, it warns that it could also result in some species becoming endangered if some areas are not monitored to ensure that adequate numbers are preserved in the wild to sustain healthy breeding populations.

However, it says that the Wildlife Division does not have the necessary data to know what the numbers were like before or now since there has never been a qualitative and quantitative analysis carried out in trapping areas in Guyana. This, it explains, is essential so that measures can be developed and implemented to sustain and aid the growth of wild populations. It says harvesting areas have to be assessed to determine the quantity and quality of species and then a coordinated approach can be implemented involving trappers, traders and other stakeholders.
Blue-and-Yellow Macaw

With the support from the World Wide Fund for Nature (WWF), the GABTS is preparing to do a quantitative and qualitative analyses of the species in prime harvesting areas. It has also designed a methodology that it hopes can be used to sustain and develop wild populations.

from:
http://www.stabroeknews.com/index.pl/article_general_news?id=56510778
---

http://www.freeparrots.net/article.php?story=20070101232605568