Incredible journey of refugee parrots
Wednesday, July 19 2006 @ 01:07 PM UTC
Contributed by: roelantjonker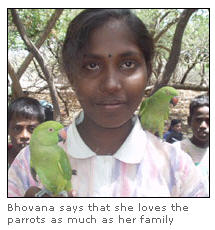 By LR Jagadheesan
BBC News, Madras

Two parrots owned by 15-year-old Tamil refugee Bhovana Nishanthini Lombert mean absolutely everything to her.

Bhovana says that she loves the parrots as much as her family. So devoted is the teenager to her feathered friends that she was willing to take them and nothing else in the arduous journey by sea from war-torn Sri Lanka to a refugee camp in the south of India.

The birds remained on her shoulders throughout the voyage.

Bhovana is one of about 4,000 Sri Lankan Tamil refugees who have fled their homes in the north of Sri Lanka because of the increasing number of skirmishes between the army and Tamil Tiger rebels.
The refugees travel across the 30km (18-mile) stretch of sea that separates Sri Lanka from the southern Indian state of Tamil Nadu, crammed into small fishing vessels.

Sometimes there is no room to sit down - let alone carry a pair of parrots - with as many as 20 people standing huddled over their meagre belongings.

On her arrival in India, Bhovana - like other refugees - underwent tough questioning by Indian security agencies.

But Bhovana's entry procedure provided welcome relief in what sometimes can be a tense and bad-tempered bureaucratic exercise.

"The sight of Bhovana with two parrots sitting on her shoulders eased the tension and brought an instant smile all around, including the police," a local journalist told the BBC.

A police official - known only as Radha - who registered Bhovana's family as refugees vividly recalls the arrival of the winged visitors in her office.

"The parrots were so cute and so friendly with the girl," she said.

"It was such a pleasant experience to watch them play. We all liked them."

However, the police had a problem.

How do they register these two winged visitors to meet the exacting standards of Indian immigration law?


After much deliberation, a senior official in the station recalled an earlier incident in which a refugee brought in a Pomeranian dog.

It was classified by the authorities as an "accompanying canine".

Using the same logic, the two parrots were classed as "accompanying warm-blooded egg-laying vertebrates".

In other words, the two parrots were officially recorded as part of Bhovana's family.

"Compared to other pet animals like dogs and cats, we consider parrots as safe and easy to maintain," Radha explained.

"So our security personnel, who are mainly worried about possible infiltration into India by Tamil Tiger rebels, were happy to allow the parrots to stay in the refugee camp.

The teenager herself says that she is devoted to her pets and will never be separated from them.

"I love these birds as much as I love my three brothers and parents. They are part of our family," she said.

http://news.bbc.co.uk/2/hi/south_asia/5176174.stm

www.araproject.nl
---

http://www.freeparrots.net/article.php?story=20060719130740197