A very special egg – a Spix's Macaw
Saturday, April 22 2006 @ 12:40 AM UTC
Contributed by: MikeSchindlinger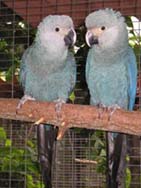 A little Spix's Macaw was the Easter present of the world's rarest parrot species, which has been extinct in the wild since October 2000 in its home country of Brazil. It can only be saved by means of a captive breeding programme. This egg comes from the only active breeding pair at present found in a zoological garden.

The chances for optimal development of this nestling are good and the Loro Parque Fundación is optimistic that another Spix's Macaw will grow to be an adult and contribute to the conservation of its species.

Currently in the official breeding programme of the Brazilian Government there are only twelve living birds, including this chick, found worldwide (five birds in Sao Paulo Zoo, Brazil, five birds in the Loro Parque Fundación, Tenerife,) and another pair at a private centre in Brazil. Of these, the only breeding pair is kept in the Loro Parque Fundación. After the two Spix's Macaws that hatched in 2004, this chick represents the third success of this pair.
Currently, there are about another 80 living Spix's Macaws in captivity. It is hoped these can be incorporated into the breeding programme.

The breeding agreement of Loro Parque Fundación is another important step within the international breeding programme for the conservation of this parrot. The aim of this project is to manage the population of Spix's Macaws in captivity so as to conserve the species and reintroduce it to its original habitat, the so-called caatinga of north-east Brazil.

Photograph: "Arabella" and "Turquesa", the two female Spix's Macaws hatched in 2004, in their aviary.

http://milkriver.blogspot.com/2006/04/env-new-spix.html
---

http://www.freeparrots.net/article.php?story=20060422004007541