Birds bid Roaring Fork Valley adieu, as The Gabriel Foundation forced to move
Monday, October 03 2005 @ 03:29 AM UTC
Contributed by: MikeSchindlinger
By Naomi Havlen; October 2, 2005

It's a bittersweet farewell this weekend for about 150 of the Roaring Fork Valley's most colorful, feathery residents.

The birds that live at The Gabriel Foundation, a parrot rescue and adoption agency located in Emma, have found a new home in Elizabeth, 35 miles south of Denver. The nonprofit had been taking in abandoned or mistreated parrots in their Eagle County and then Pitkin County locations, and adopting them out to good homes nationwide, but was cited for land-use violations by both counties.
Founder and president Julie Murad decided to look elsewhere for land to enhance the organization. Its new home on the Front Range will be funded through a $1.5 million capital campaign.

So how do you move 150 birds from the mountains closer to the big city? It sounds like the beginning of a joke, but The Gabriel Foundation has it all figured out.

The process began last Thursday, when the parrot's cages (sans parrots) were loaded into a 50-foot semi-trailer, explained Gabriel Foundation Executive Director Anna Gonce.

----------------------------------------------------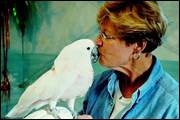 Norah Sowa, a volunteer with The Gabriel Foundation, gives Peaches a peck on the beak Friday, just before the cockatoo is moved to the nonprofit organizationís new home in Elizabeth, Colo.
Mark Fox/The Aspen Times

----------------------------------------------------

Then, the birds were moved from those larger cages into small, plastic-sided portable pet carriers. The foundation has owned the temporary bird carriers for a few years, having bought them in the event a wildfire forced them to evacuate all of the birds in a hurry, Gonce said.

Friday they moved the cockatoos and some of the foundation's brightly colored macaws, about 60 birds total. Each carrier had a piece of tape above its door, announcing the name of the bird within, like Peachy, Sunny and Odie. Volunteers carried the birds in their smaller cages out to awaiting vehicles, sometimes taking the bird out to hold its claws on a finger, stroke its head or give its beak a quick nuzzle.

The birds soon found themselves stacked in their portable bird carriers inside two large vans. It's more than a four-hour drive to Elizabeth, Gonce said, and the drivers were mentally prepared for the cacophony that could erupt at any time.

"When you live with this every day, it just becomes part of the job," Gonce said. "And, you have some earplugs."

The foundation's new home includes nearly 12,000 square feet of indoor space. The birds will also enjoy 25,000 square feet of outdoor flights - fenced-in structures where they can stretch their wings in the fresh air.

The complex also includes three buildings with a separate visitor center, adoption area, and isolation and quarantine rooms for new birds who must be checked for avian diseases. Altogether, the new aviary will be able to hold 350 parrots at one time, although Gonce said it will be a while before they expand their flock that large.

Unfortunately, there will always be more birds out there than the organization can take in, she said, noting that birds are the third most popular companion animal in the United States. Organizations like The Gabriel Foundation are needed because birds have incredibly long life spans - from 20 to 80 years, she said. Sometimes the pets outlive their owners, and sometimes bird owners abandon their pets, pass them along to friends and family or mistreat them.

Typical shelters for dogs and cats are also often ill-equipped to take care of birds, which need specialized care. At The Gabriel Foundation, birds get regular exercise in the outside flights (to avoid becoming "perch potatoes"), get homemade meals of beans, corn and legumes, as well as fresh fruits, vegetables and high-quality pellets.

Although The Gabriel Foundation does take care of some sick birds that can never be adopted out, the nonprofit has a successful adoption program and trains owners how to care for their birds.

Gonce said the organization will miss being in the Roaring Fork Valley, but that it's better for the birds to have a new, spacious facility than continue to live in the converted, cramped buildings they lived in at the ranch in Emma. She also hopes that they can raise awareness about the organization since they'll be a short drive from downtown Denver, where they maintain an educational center.

Naomi Havlen's e-mail address is nhavlen@aspentimes.com

http://www.aspentimes.com/article/20051002/NEWS/110020014
---

http://www.freeparrots.net/article.php?story=20051003032911978