New York buildings dim lights to save birds
Friday, September 23 2005 @ 11:55 PM UTC
Contributed by: MikeSchindlinger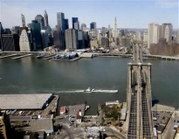 Tue Sep 20, 2:06 PM ET

NEW YORK (Reuters) - The city that never sleeps will darken the lights of the famed Manhattan skyline after midnight to help save migrating birds.

New York civic leaders on Tuesday said the lights of buildings above the 40th floor will be turned off after midnight in the fall and spring migration seasons to save birds.

Since 1997, more than 4,000 migratory birds have been killed or injured from colliding into buildings, bird experts said.
"New York City is this nexus of ancient migratory flyways, and the parks have become these havens for these birds, but ... the buildings with their light draw birds to them, sort of like moths to a flame," NYC Audubon Director E.J. McAdams said at a news conference.

McAdams was joined by city officials and real estate groups in promoting "Lights Out New York." One building group leader said he expected 100 percent compliance, and another said he expected around 95 percent of its members to participate.

"There's no reason why we can't do this little effort to help our environment. Just because the lights are out does not mean that energy will not be flowing in New York City 24 hours a day," Real Estate Board of New York President Steve Spinola said.

The program was modeled after others in Chicago and Toronto. For those who would lament the dimming of New York's famed skyline, New York officials said it would only occur a few months a year and save energy.

"This is recognizing that beyond architectural beauty, natural beauty is something that can't be replaced. Once these bird species go extinct they're not coming back," Parks Commissioner Adrian Benepe said.

http://news.yahoo.com/s/nm/20050920/sc_nm/environment_birds_dc
---

http://www.freeparrots.net/article.php?story=20050923235500941